Pool Repair in Yorba Linda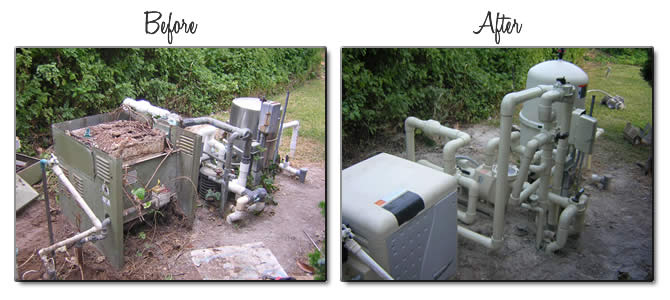 Yorba Linda Pool Repair performs professional quality repairs in all areas, including:
Heater

Swimming pool heaters tend to be the more complex pool equipment. Consequently, problems need to be diagnosed and repairs performed by a licensed professional. Our experts have experience dealing with all types of heaters and all issues and malfunctions associated with them.

If you are having issues with your pilot lighting or remaining lit, pool not reaching the desired temperature, an outdated, inefficient heater (causing higher monthly costs), leaks or exhaust emissions, whistle or other noises, rust in your pool, or anything else associated with your heater, give us a call! We will gladly provide a free diagnosis and estimate.
Pump & Motor

It is essential to have the proper size pump for your pool. Too much power can damage the filter and heater. Not enough and your water will not move through the filter properly. Sometimes all a pump needs is some maintenance, such as lubrication or replacement of parts that have worn out. We won't charge you for repairs you don't need.

We have the experience and know-how to advise you on how to save the most money and best preserve the life of your pool equipment. If you are experiencing pump leaks, air in your pump basket, a noisy or faulty motor, or any other pump or motor problems, please give us a call!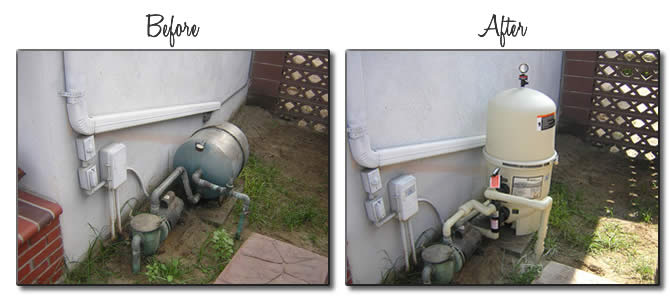 Lighting

You need proper lighting in order to get the most out of your pool experience. We can repair faulty lighting and inspect your lighting to ensure it is safe for swimming and is protected by a G.F.I. (ground fault circuit interrupter).

Ready for an upgrade? We can install fiber optic or LED, color wheel, or color-changing S.A.M. lighting for endless, colorful fun in your pool! If another company has told you your lighting cannot be replaced, give us a call.
Filter & Valves

Choosing the right filter for your pool is important. You need a professional to advise you on what type and size is best for your pool. We can instruct you regarding what filter to use, how and when to backwash your filter and other ways to keep it running smoothly and preserve its life. We can also perform any filter/valve repairs or replacements as needed.

If your filter is returning sand or powder into your pool, the filter or valve is leaking, or you are experiencing poor water quality, call us and we will get your pool running like new again in no time!
Automation (controls)

If your wireless pool operating system is not working, has lost its program, or is malfunctioning in some way, call us – we are expert troubleshooters! We will gladly assist you in setting up and learning your automation system, as well as performing any repairs or troubleshooting as needed.

If you do not have a wireless automation system, it may be time for an upgrade. Treat yourself to the luxury of controlling nearly everything on your pool (including lighting, salt chlorination output, and temperature) with the simple touch of a button!
Tiles

Yorba Linda Pool Service has developed a technique for removing calcium from the pool waterline without etching your tiles! We use water and a fine powder to clean and polish your tiles and return them to looking as good as new – no sealer necessary! Have missing or loose tiles? No worries - we have an expert tile layer on staff.
Plumbing

Many types of pipes and valves are used on pool plumbing. Our expert technicians can diagnose and repair any problems in a timely manner for a reasonable price. If you have outdated pool plumbing or are experiencing leaks, you may need some repairs or upgrades with your plumbing. Call us today for a free estimate!
Our trained, experienced technicians will accurately diagnose and repair all malfunctions in a timely manner. Not only that, but they will inform you, the owner, on how best to maintain your pool and keep it in tip-top shape. We will honestly advise you regarding repairs and upgrades and always try to keep your expenses to a minimum, while keeping your pool's condition and your satisfaction as our highest priorities.
We stay up-to-date on all the cutting edge techniques in pool maintenance and repair and are ready to assist you with any problems or concerns you may have. Give us a call today!